The Proposal
Life's biggest surprises often happen when you least expect them. And when Kent proposed a little more than three months ago, I wasn't exactly expecting it. Not in the sense that I thought it was never going to happen — Kent and I have talked about marriage for years and have always known that's where we're headed. I just didn't think the proposal was going to happen when it did.
The Build-Up
The night before, we'd actually gotten into a rather, shall we say, lively discussion about the topic of our eventual engagement. Truth be told, it came out of nowhere. I had randomly heard a song that I want played at our wedding, and that's when all these feelings started to bubble to the surface. I was a little impatient. I was anxious, too. I knew that I wanted a longer engagement, but I also knew that I wanted to be married by the time I turn 30. I had just turned 28. Bearing in mind that ideal two-year engagement...well, you do the math. So I strongly reiterated these concerns to Kent. Poor guy, he was taking it like a total champ. Of course, I knew he was going to pop the question at some point, but I had pretty much ruled out the possibility that he was going to do it by the end of the year.
Anyway, back to the night before. We both shared our perspectives on the engagement issue (me with my timeline and Kent with his wanting to do it "just right"), but I still went to bed in a sour mood. Like a total brat, I cancelled our plans for the next morning (going to Barry's Bootcamp followed by brunch, two of my favorite things ever) and moped around in bed until, like, noon. Kent, being the patient and understanding angel that he is, offered to make brunch at home while I continued to wallow in self-pity (which I am exceptionally good at, by the way).
At first, he offered to make brunch and then suggested that we go for a walk since it was unseasonably nice for a mid-December day. But I immediately shot down the walking idea. I was a little suspicious that he was trying to plan some sort of grand gesture to apologize after arguing all night. I wasn't feeling it. So he made brunch, which I'll be honest, put me in a slightly better mood. He brought up going for a walk again, which I still wasn't too keen on. But he was adamant (and he had made brunch), so I agreed to it.
The Big Moment
We walked toward the Anacostia River, which is about two blocks from our apartment. It was an overcast but warm winter day. I wasn't saying much because I was still being pouty and difficult (also something I'm really good at!). When we approached the Pedestrian Bridge at Yards Park, Kent started to slow down. Then when we got to the middle of the bridge, he completely stopped. He started saying that he had something to tell me, something that he needed to get off his chest. Our backs were kind of toward each other, and when I turned around, he was starting to get down on one knee.
And that's when everything gets really fuzzy.
The landscape around me began to blur, and it felt like it was just him and I existing alone in the world for that moment. I was honestly in such a state of shock and also in a little bit of denial. I had literally just convinced myself that it wasn't going to happen anytime soon. Now here he was down on one knee. When he removed the velvet ring box from his coat pocket, that's when it hit me: Oh my god, this is really happening!
And then, I blacked out.
OK, not exactly. But I was so overcome with emotion that I couldn't even process what he was saying. I remember something about how keeping this secret was the hardest thing he's ever had to do, and that he wanted to get it all right, that he wanted me to be his wife. Then he asked, "Will you marry me?" I, of course, said yes and practically leapt into his arms. Then he put the ring on my finger, and I just couldn't believe how gorgeous it was. (I mean, I totally still look at it and find myself rendered breathless by its beauty. He truly knocked it out of the park.) I hugged him, and that's when the world around me started to come back into focus. I looked over his shoulder and saw our two photographer/videographer friends, Tasha and Christopher, popping up from behind a few bushes.
The Realization
I totally lost it, because in that instant it all clicked: Kent had this whole production planned, and I had given him such a hard time about it only a few hours before. I immediately began sobbing. It was emotional whiplash — I'd gone from being so insufferably bummed out to being completely overjoyed. Needless to say, it was a lot to process.
We walked back to our apartment and popped a bottle of prosecco to mark the occasion. The bottle was actually gifted to us on our (dating) anniversary last March, but I'd been keeping it around "for a special moment." I had no idea we'd be opening it to celebrate our engagement! It was the perfect full circle.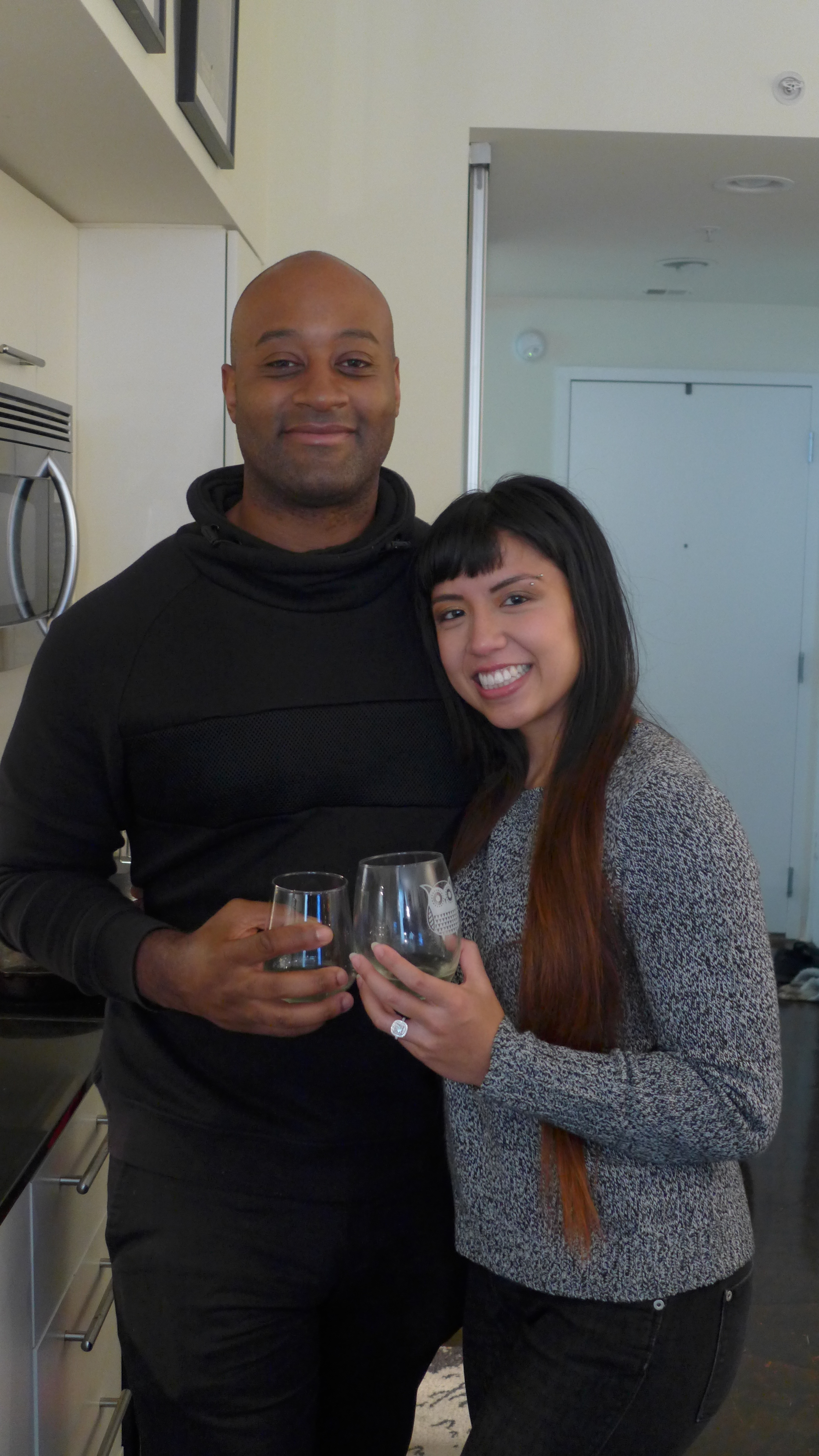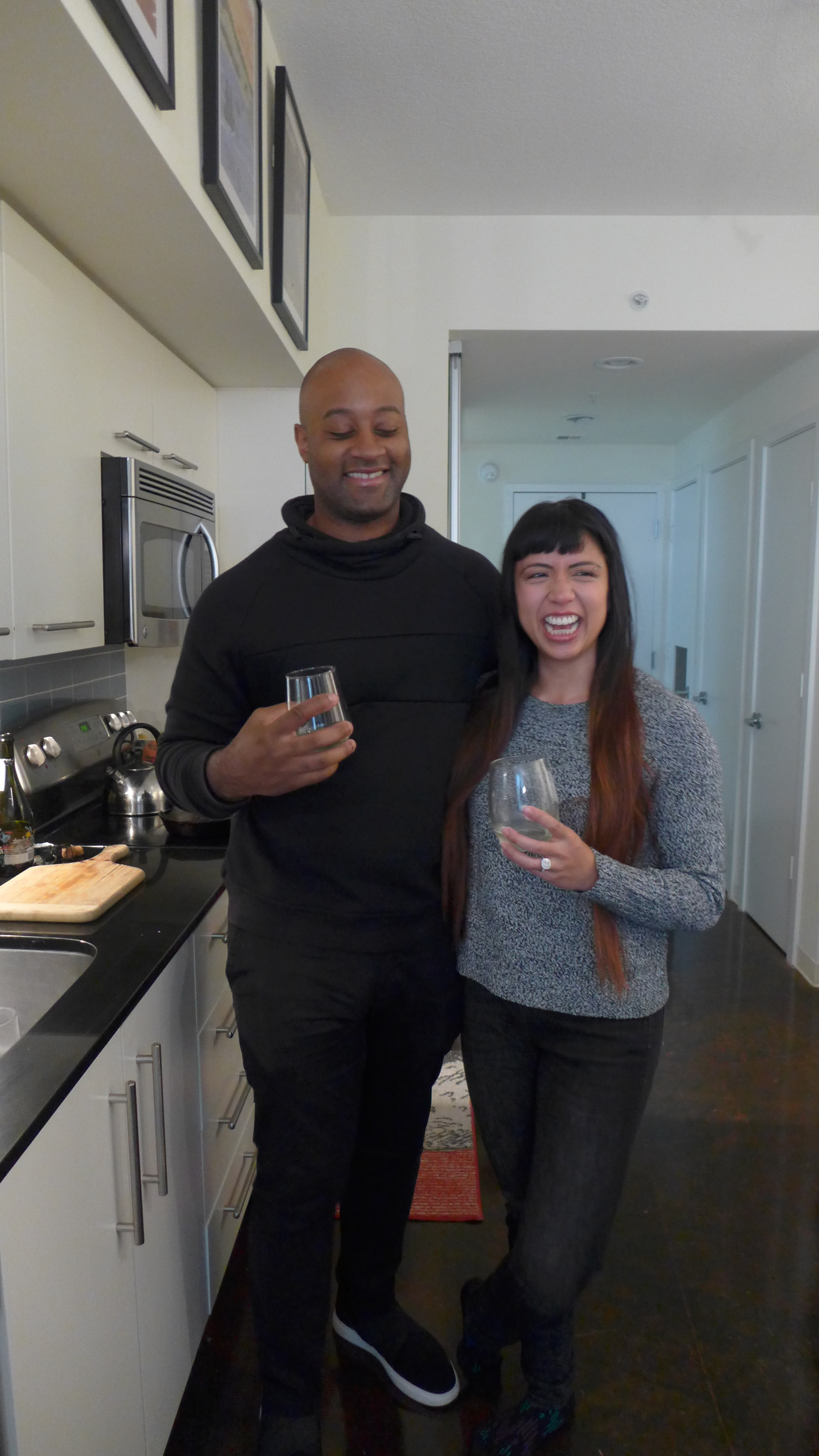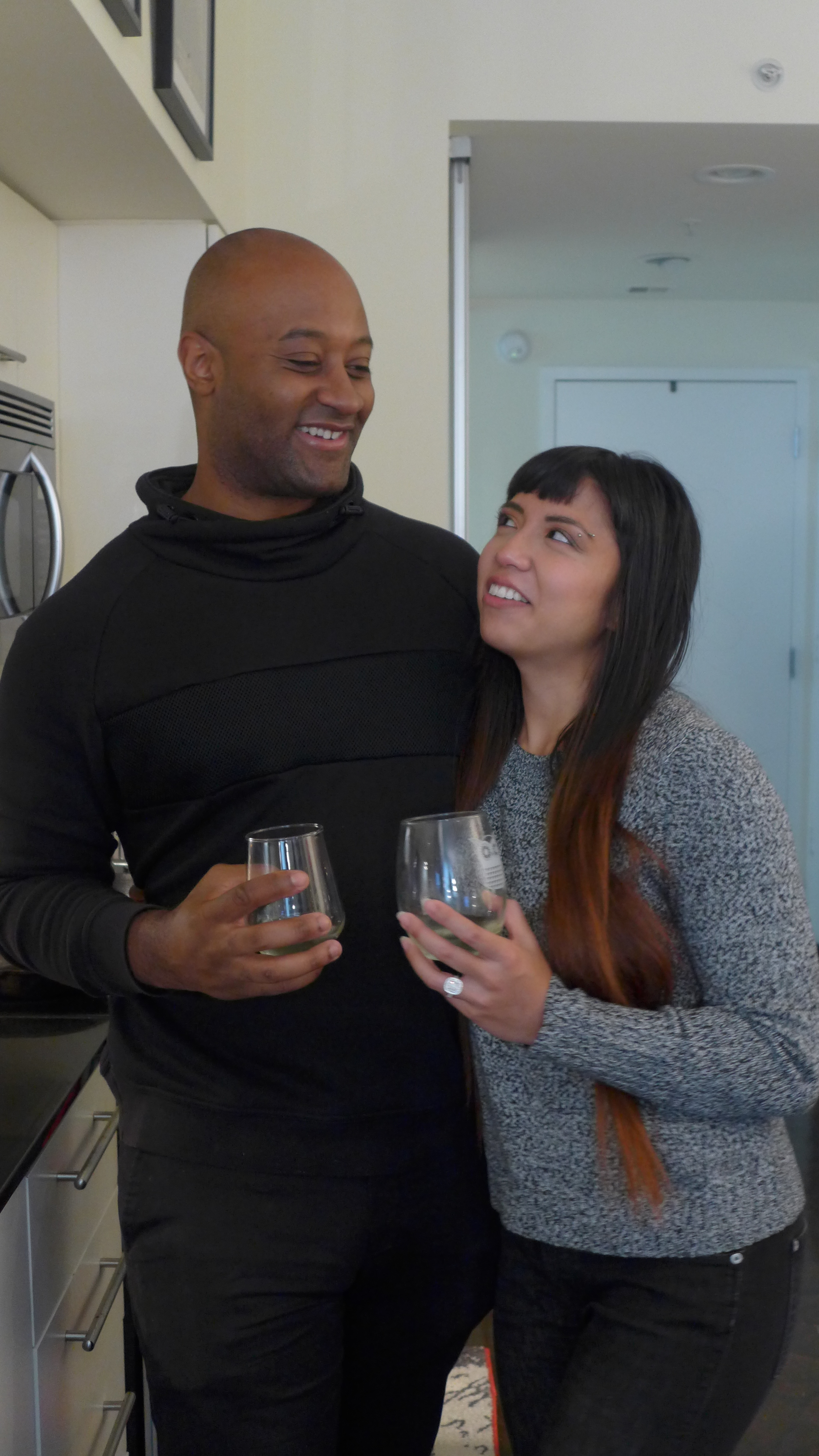 We spent the rest of the afternoon taking pictures around Capitol Hill, and it was just so, so special. Kent later revealed that he planned on proposing sooner, but had to push it back because he didn't end up liking the first ring he had purchased. Apparently, he'd flown back and forth from Miami — in a single day! — to pick up the new ring because he was so worried that I'd otherwise come across it. Sneaky! And although he explored other spots to propose, he chose to do it in our neighborhood because he knows how much I love living in the Navy Yard. (I may be biased, but it's kind of the best neighborhood in D.C.)
After pictures, we went to the gym (had to get my workout in, obvs.) and then to Purple Patch, one of our favorite restaurants in the District. They serve to-die-for Filipino food that reminds me of my mom's home cooking. We've celebrated birthdays, new jobs, and holidays there, so it was really the perfect place to spend our engagement as well.
Looking back, The Big Moment certainly didn't happen the way I'd envisioned (which I wrote about more extensively for The Washington Post if you're interested in reading about that). But it was nonetheless an unforgettable and significant experience that I will treasure forever. The whole proposal reminded me of why I'm so lucky to be marrying this man, and I couldn't have asked for anything more than that.
A HUGE and incredibly special thanks to Tasha and Christopher of Hey Bulldog Studios for not only being our personal paparazzi, but for also being the first people to share in our joy. We are so grateful that you were there to capture this moment for us!
And of course, thank you to all of our family and friends who have sent us well wishes as we prepare to embark on this new chapter in our lives. It's so exciting, and I can't wait to celebrate with everyone ❤️
With love,
Mekita