How My Life Changed In 2017
A few words come to mind when I think of 2017: Unexpected. Challenging. Transformative. I went into the year preparing for the worst, considering the incoming (and now current) inhabitants of the White House. Living in DC really amplified my fears about this administration and, sure enough, we've all seen just how much of a disaster this experiment in democracy has been.
Despite the chaos of our current sociopolitical climate, I've somehow found a way to tune out the noise when necessary, put my head down, do the work, and focus on me. This year was about zeroing in on what I'm in control of and letting go of what is beyond my control. I was constantly asking myself, "How can you take charge? What else can you do to get to where you want to be?" I shifted my perspective completely — I concentrated less on other people's success and more on defining what success means to me. Once I had that definition in place, I started dedicating time, energy, and resources into achieving that particular version of success. And, delightfully, this strategy has worked pretty well for me.
Most notably, my career really took center stage this year — I left one full-time position for another, and I began growing my side hustle as a freelance journalist. Beyond my professional life, I've continued to build a home here in the District. I've done lots of traveling, too — visiting Seattle and Portugal for the first time, and returning to some of my favorite destinations including Paris, Miami, and Arizona. I even added a sparkly piece of bling to my jewelry box... ;)
Because I love a good listicle, here are five of the (major) ways my life changed in 2017:
1. I landed a new job.
While it was tough leaving an editorial job (and a team!) that I really loved at AAUW, I received an incredible, can't-possibly-turn-it-down offer from the University of Maryland's Robert H. Smith School of Business. I now work on the Smith School's communications team, covering our faculty's top-tier business research.
2. I started writing more...
Although my freelance career officially launched in 2016, it really picked up steam this year. That's not to say that it was easy: I pitched like crazy, weathered a ton of rejection/mild embarrassment, and had one too many anxiety attacks over looming deadlines. But the grind paid off: I established and nurtured relationships with editors at major publications, and — best of all — they liked my work!
...and I snagged bylines in places I've only dreamed of.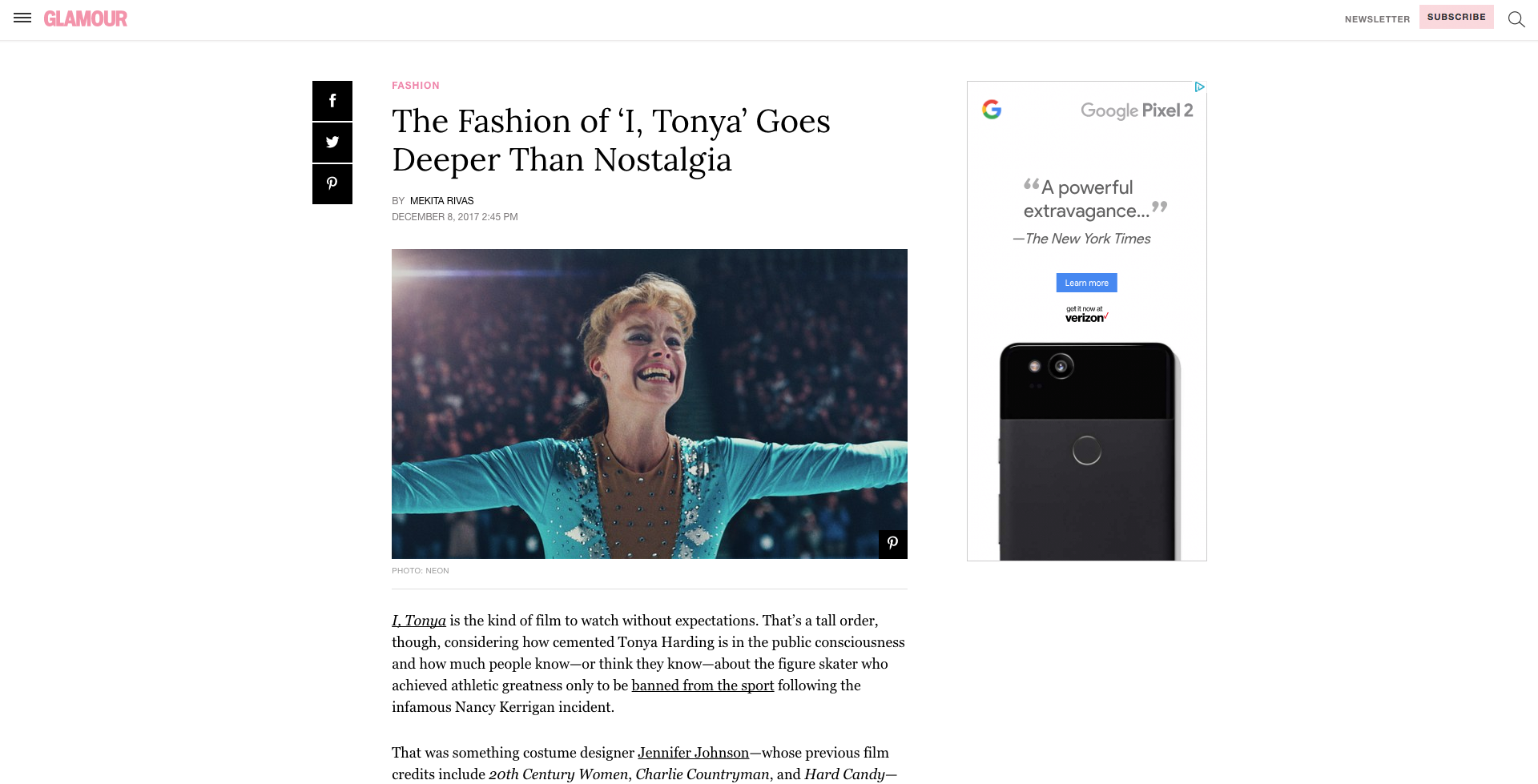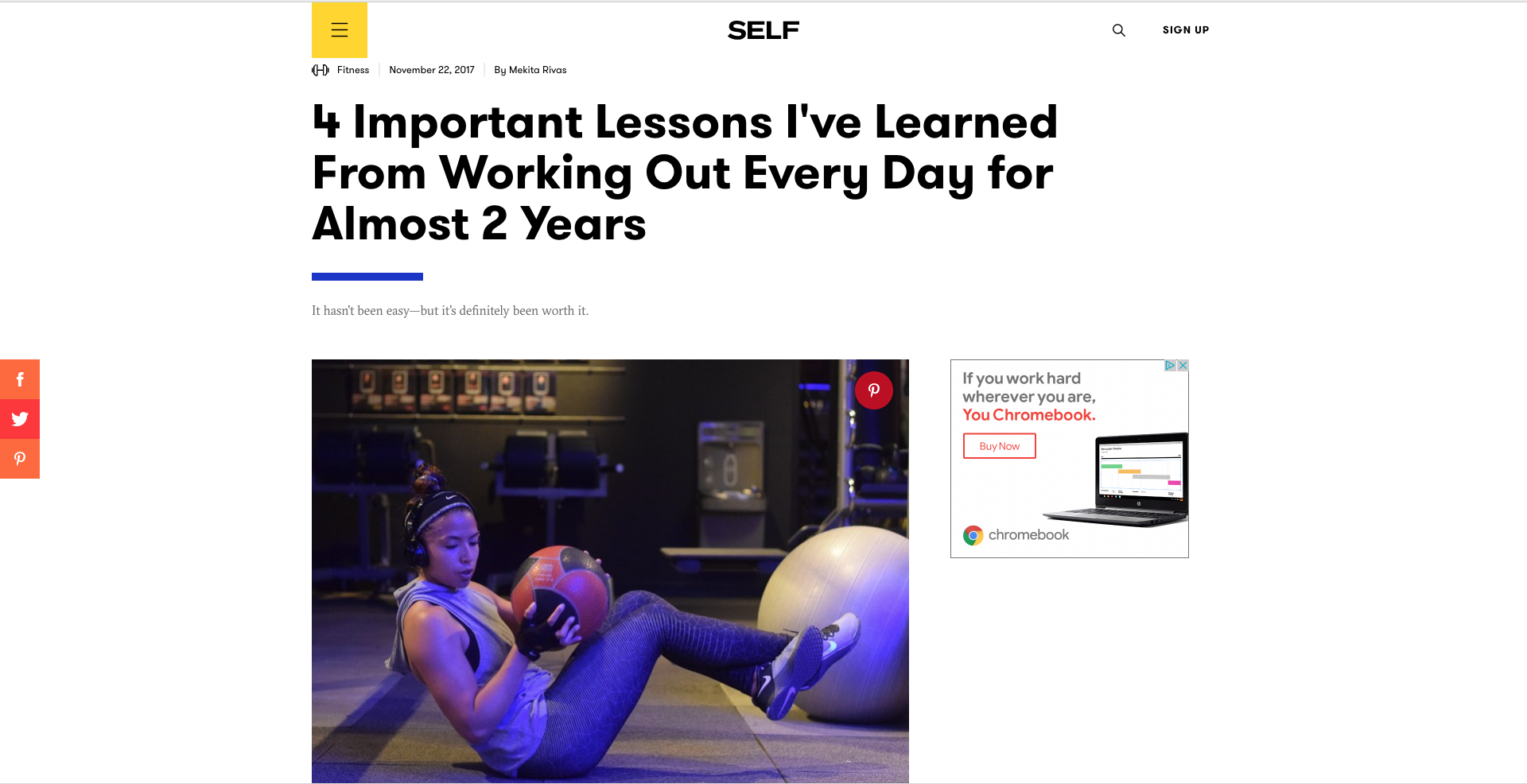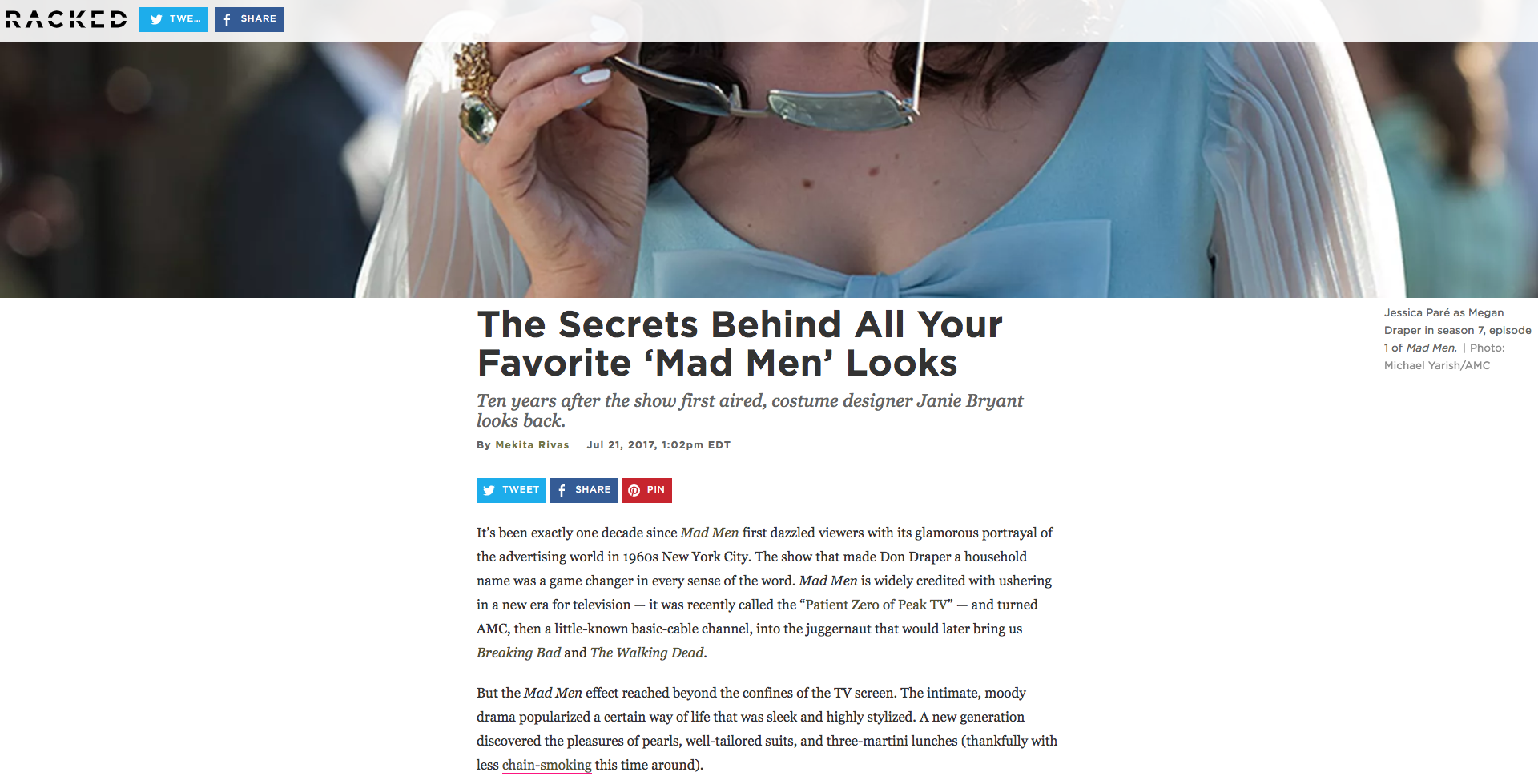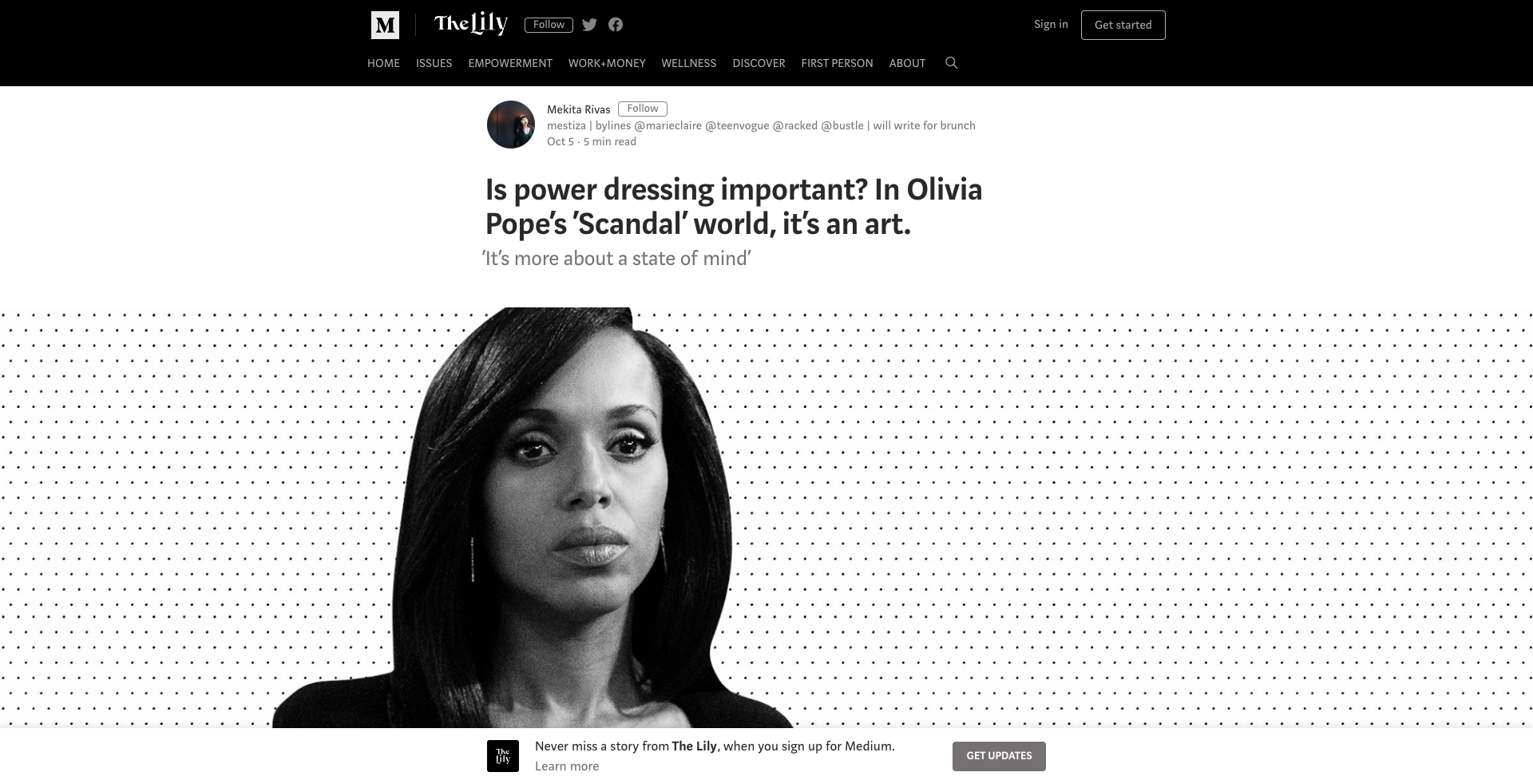 This year I broke into Glamour, Marie Claire, SELF, Racked, The Lily, Greatist, HelloGiggles, GOOD, Romper, mitú, and On She Goes. I can't tell you how it happened other than I just learned to shoot my shot and not get (too) discouraged if I missed. I've grown tremendously as a writer, and I'm continually refining my craft and my voice. These are a few of my favorite pieces from 2017:
The Secrets Behind All Your Favorite 'Mad Men' Looks for Racked — This was a piece that I quite literally spoke into existence. I felt a calling to write this piece. I had to write this piece. Mad Men is my favorite TV show, and I've long admired Janie Bryant's work. As the 10th anniversary of its premiere approached, I knew it would be a great fit for Racked, but I had no idea how to land the interview with Janie. But I just told myself that if I sold the piece, I'd figure it out. And that's exactly what happened! Speaking with her for nearly an hour about the show's impeccable costume design was such a privilege, and it'll be one that's hard to beat. This was my first entertainment piece for Racked. Earlier in the year I penned two essays for their Just One Thing series (here and here).
The Mindy Project's Final Season Features $100,000 Worth of Dolce & Gabbana for Racked — I adore The Mindy Project almost as much as I adore Mindy's incredible (and oh-so colorful) wardrobe. I had a blast interviewing costume designer Salvador Perez about Mindy's style evolution on the show.
Jane Villanueva of 'Jane the Virgin' Is the Style Icon I've Always Wanted for Glamour — This is another example of a piece I felt called to write. But after several rejections, I wasn't too optimistic. I pitched the digital fashion editor at Glamour on a total whim; we had no prior ties to or communications with each other. Much to my surprise, she was interested but wanted to talk through the story over the phone. Fortunately our chat went well, and she gave me the green light!
Being Mexican And Filipina Made Me Question My Identity for mitú — This hybrid personal/reported essay was probably the most natural, but also the most vulnerable, piece I wrote all year. Writing it was really therapeutic. I was (pleasantly) caught off guard by the response — so many people reached out and told me that they could relate, and that my story made them feel less alone.
4 Important Lessons I've Learned From Working Out Every Day for Almost 2 Years for SELF — Two of my biggest passions are writing and fitness, which means that this personal essay is basically my pièce de résistance. But it was a struggle getting this one off the ground. I pitched it everywhere for months, and either got rejection or radio silence. I sat on it for a while and revisited it later in the year. I decided to go big or go home, pitching the SELF senior fitness editor for the first time. She responded almost instantly (something I'm definitely not used to as a freelancer), asked a couple questions, and then bought the story! It was a huge win for me, and I enjoyed chronicling the lessons I've learned on my slightly absurd fitness journey.
Honorable mentions:
3. I (somewhat unintentionally) started my own business.
When I began my foray into the freelancing world, I really had no idea what I was doing. There was a steep learning curve and a lot of trial and error involved. I (naively) thought it was as simple as pitching editors, completing the assignments, and getting paid for my work. The process is much more extensive than that, and somewhere along the way I realized that I wasn't just a ~lowly freelancer~ — I'm a full-fledged business owner! I'm excited to share that in 2018, Rivas Raves will encompass a wide variety of projects: my portfolio as a freelance journalist, my personal lifestyle blog, and my work as a creative consultant to private clients. As Jay-Z would say, I'm not a businessman, I'm a business, man.
4. I explored new locales.
I (finally!) made it to the Pacific Northwest, making stops in Seattle and Vancouver. I adored both, and I wish I could've spent more time adventuring. I also checked Portugal off my list. Lisbon was a magical surprise. The cuisine was just to die for — the seafood, in particular, was unforgettable. I also went surfing for the first time ever. I didn't catch any waves, but I did develop a newfound appreciation for the sport because that sh*t is hard!
5. I got engaged!!!
So this was, of course, HUGELY MOMENTOUS. I'll be writing a blog post chronicling the whole proposal story soon, but it's worth noting that I really did not think it was going to happen this year. Considering this all went down just two weeks ago, I'm honestly still processing the whole experience, which was very, very emotional (in a good way!). We are incredibly excited to start this new chapter together!
This list was not meant to be exhaustive. My life changed so much this year, perhaps even in ways that I can't totally describe. But that's the funny thing about change: Sometimes it's big, loud, and obvious. And sometimes it's subtle, delicate, and almost undetectable. Regardless of how change is packaged, what matters is how you respond and react to it. I used to resist change — and ardently so. I like routine. I like a certain level of predictability. I like being comfortable.
But growth doesn't happen in your comfort zone. Getting out there and going after what you want — no matter the setbacks or obstacles — is the only way to evolve and prosper. Because success isn't all about the outcome. The process of getting there is just as critical.
I'm looking forward to the changes that 2018 will bring, and I hope you are, too!
Happy New Year,
Mekita